Alexander Turcic at MobileRead posted a few pictures of the soon-to-be-released Readius e-reader.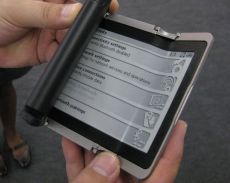 Readius claims to have created the only pocket-sized (dedicated) e-reader:
Readius is exclusive as it pioneers rollable displays to enable the only pocket eReader. Readius® will therefore expand the eReading market even further by addressing the core needs of people 'on the go'. This product is the first of a whole new generation of mobile devices.
It's got audio and wireless capability so you've got email and MP3s in the little guy too. Plus—key-ute (translation: cute).