Barnes and Noble has provided a lot of fodder for gadget geeks looking for a new fix: both the Nook e-reader and Plastic Logic's nearly mythical and newly named e-reader, the QUE, have shown their faces to the world.
The Nook actually launched this week, while the QUE has merely made a brief appearance before seeing it's shadow and returning the safety of the laboratory until the new year.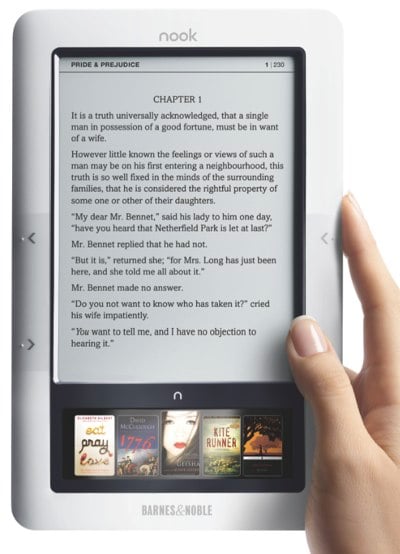 Nook is, unshockingly, being touted as the Kindle killer (as were the last 47 e-readers which came to market)…so is it? Well, this section from Publisher's Lunch gives me pause:
The wi-fi in the device will only work in BN stores and will detect when a customer enters a store; Lynch commented "we think browser on eink devices are a really clumsy experience." But that means Nook owners who go to a Barnes & Noble store will get sent preview chapters ("imagine a month in advance we tease the first chapter of Malcolm Gladwell's book") and receive coupons and other promotions. They'll also be able to able to browse through any e-book for free while within the store. The package gives e-book owners plenty of reasons to keep shopping (or browsing) in a bookstore.
I'm reading that to mean that you can only buy books while you're physically in a B&N store. Is that really true? Because—why? Doesn't this kind of defeat the point of having an e-reader? 'Clumsy' as browsers might be, they are the vein that transports that lifeblood of bookstores: purchasing. Kindle allows for impulse buying no matter where you are—not great for the credit card but pretty darn good for the credit recipient.
B&N is also advertising free and unlimited e-book sharing for Nook owners: for up to 14 days, you can share your e-books with any other Nook users (either one time for each book or unlimited times, depending on which source you're trusting). Super cool for readers, yes. Super cool for publishers? Probably not so much. It's a great feature…if it gets off the ground.
In background, you'll remember that the QUE has long been marketed as the professional e-reader (you can tell how sophisticated it is by the lack of illumination in the image. Maybe it's a high-tech toaster—until someone turns on the lights, you won't know for sure.)
Will QUE allow for the on-the-go purchasing that keeps Kindle at the head of the pack? From the press release:
The sleek QUE connects users with all their favorite business and leisure publications, newspapers, periodicals and books via USB or wirelessly through AT&T's 3G network and WiFi. And it supports all the document formats businesses use most, like PDF, Word, PowerPoint, Excel and many, many more.
Sounds excellent. Just like my laptop. So great. But…it's just like my laptop? We'll know in early 2010 what makes QUE worth a separate purchase and precious carry-on space…